This question seems to be very tricky as both the cars have been absolutely brilliant with their performance and design. These cars come under sedan class and are manufactured by top leaders Honda and Hyundai respectively. If we have to answer this question, we need to compare some of the specifications, features, and the designs. This article will be helping the readers to understand which car is supposed to be the best.
Hyundai has designed the car in such a way that it is aerodynamically strong and in the cornering the car goes steady and swift. This feature is missing in Honda City as their main focus was totally into the performance and the design.
Hyundai Verna has a very bad road clearance as engine chassis is placed little low. Honda city has a better road clearance and if you want to take it on a daily basis, you can go ahead with Honda City.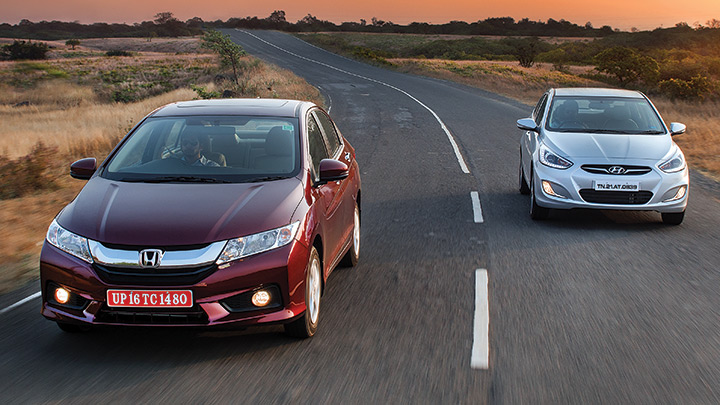 Honda City is expensive. Honda city costs 14.33Lakhs which doesn't include taxes and Hyundai Verna might cost you around 14.05Lakhs exclusive off taxes. The prices which are discussed are for the top end diesel versions. You can even compare mid version in their website and then decide accordingly.
When it comes to stability, Verna is amazing at corners and has one of the best handling. Honda city falls little short in this segment and the engineers are working behind this issue and they might fix as soon as possible.
Hyundai has more features when compared to Honda city as they concentrate more on bringing feature rich products. Honda City mostly concentrates on engine and engineering of the car and doesn't give much importance to infotainment.
To name a few Keyless entry, automatic wiper alerts, and Seat Belt alarm is not present in the mid-sector of Verna but Honda City provides all these features in the intermediate segment.
Hope the article has given you the best comparison between Honda city and Hyundai Verna. If you have those price constrains, you can any day opt for Verna as Hyundai being a Korean brand has been in the industry from many years and given top-quality cars. If we have to talk about maintenance, city is much better.
Stay connected to us for more such sections. Thanks for reading!